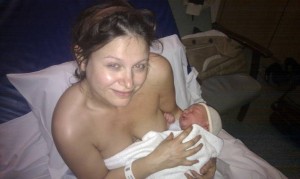 Thank you Tracey for helping my mummy bring me safely into the world! With love from Brodie Alan Bennett.
Desperate not to have to be induced my partner called Tracey who recommenced a good acupuncturist.  So at 7 days overdue we gave this a go as well as trying out some acupressure excises to try and get things moving. The next day I drove my partner to the garage to pick his car up, stuck in traffic on the way back I felt a few back twinges but just thought they were normal pregnancy pains.  At about 9.30pm we went to bed and I was given a lovely jasmine oil massage and we repeated the acupressure exercises.  As soon as my head hit the pillow I was in quite a bit of discomfort so I started to do some Healing White Light Visualisation.  My partner downloaded a contraction app and we started to monitor times. As the surges were irregular, between 3 and 5 minutes long at the time I decided that the massage must have started Braxton Hicks.  This was a bit of a worry as the discomfort was quite bad and I started to think I would need an epidural at this rate! I decided to put on a TENs machine which along with the hypnobirthing breathing technics helped me manage the pain.
After a visit to the bathroom I discovered I was bleeding, so thought it best to give the hospital a call.  The midwife recommended calling an ambulance but as we were only 10 mins away I said we would drive in.  At this point I still didn't believe I was in labour and we nearly didn't bother bringing the hospital bags as I thought they would send us home again.  We got to the hospital about 3 hours after the labour began. A doctor came into the triage room and said that they would need to break my waters and induce me which I really didn't want. But after scaring me like that she did an examination and said you are 8cm dilated and she could feel the head.  I wasn't allowed to have a water birth as planed due to the bleeding but at this point I wasn't bothered.  We got into the delivery room and I got on all fours on the bed.  The pain didn't really get any worse from when it started and I continued to use the TENs machine which helped distract me.  In between surges my partner would instruct me to do the hypnobirth breathing and this would set me up for when the next surge started.
 A couple of hours after going into the delivery room I started to push.  I was still pushing more than an hour later so decided I needed to change position as all fours just wasn't working for me.  I got into a squat holding the top of the bed and a few surges later Brodie came into the world.
 I was really pleased that I had a natural delivery and truly believe this was to do with the relaxing and calming influence hypnobirthing had on me. In a way it's a shame I couldn't use a lot of what I had learnt as the labour progressed so quickly.