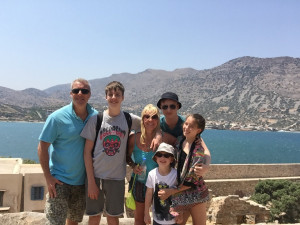 I am a Mum to four beautiful children and with more time (and energy!) I would of had another four purely to experience birth over and over again as I believe it's the most magical moment in your life.
My belief is that birth should be a positive, happy experience and your baby has been perfectly designed by your body for your body and women can tune into their natural instincts and intuition. I strongly believe that birth should be empowering and free of fear and anxiety. To do this you need to be informed and prepared with some tools to cope with any discomfort you may feel and feel happy, safe, secure and supported by somebody you trust in and feel comfortable with.
I am passionate about women enjoying their birthing experience no matter what kind of birth they choose and it is my belief that women who are supported through their births are happier, more relaxed mums and women.
I began as a children's nurse and from the moment I did the maternity section of my training I knew I wanted to work with birth. This became stronger when I had my first child. I embraced the birth and looked forward to it, I had no fear at all but what I quickly found was everyone else around me did! I also found that lots of women I knew were having long term effects from traumatic birth experiences.
I soon realised when revisiting my birth that because I had no fear I was able to relax and allow my body to do its job. Don't get me wrong, my labour was powerful and quite long but I had tools and ways to breathe and cope with any discomfort so I remained in control. I was supported by the same midwife I had got to know and trust who empowered me. After having my next child I then decided to do my Hypnotherapy training so I could teach women the deep relaxation techniques I had used without really knowing it! And help couples have the amazing and fulflling births we'd had.
I then became a hypnobirthing teacher and doula so I could support couples fully from pregnancy through to birth and beyond.
I used Hypnobirthing with my last two children and with my last little boy I had an amazing waterbirth at home.
As I have been teaching and supporting for 17 years I have experience in all types of births whether you choose to go into hospital or stay at home.
I have lots of experience in water births, VBACS, induced labour and also in births after a first time traumatic experience.
I own my dream The bump and Baby Hideout where I run the classes but also every class and therapy you could possibly need for pregnancy  birth and beyond. We have pregnancy massage, pregnancy yoga, pregnancy and post natal Pilates, physiotherapy ,acupuncture, reflexology, reiki, baby massage, baby reflex, pregnancy and post natal coffee mornings, baby and toddler first aid, weaning, post natal fitness, family, pregnancy and post birth counselling and lots more. Please go to,
https://www.thebumpandbabyhideout.com/