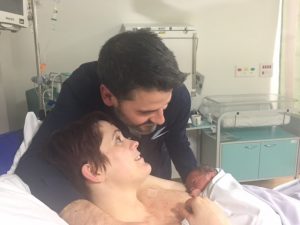 Personal, bespoke and private one to one sessions in your own home to empower, inform and support your decisions and options.  Learning to understand birth and not fear it, writing a birth/care plan, discussing policies and options, giving partners the confidence to support are just a few things the sessions may cover. I am also very experienced supporting consultant or supervisor of midwives appointments to help negotiate and navigate the 'systems' if you require this.
As one of the most experienced doulas in the country, having supported over 250 births and working closely with the local hospitals we can plan and practice your birth in preparation for your special day.
As I am a big believer in continuity of care and how the NHS is struggling with this I also offer phone/email support after the session/s as a constant caring support.
Sessions can be made specific for the following pregnancies for special preparation to empower you, discussing the questions to ask, how to write your birth plan specifically, liasing with a supervisor of midwives and how to still feel in control of your birth.
Non high risk
VBAC
Birth after a previous traumatic birth
Fear of birth- Tokaphobia
'High risk' pregnancies such as;
Gestational diabetes
Induction
C section.
All bespoke 1:1 antenatal sessions – £85